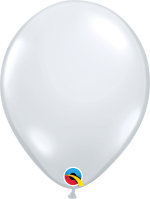 Diamond Clear Latex
Diamond Clear latex balloons, perfect for any occasion either on there own or part of a display. Diamond clear latex is a completely clear balloon used to just add a little something different to your displays and events. It can break up colours to make them easier to the eye or can be used for themed parties to create the look of bubbles! 
The Diamond Clear latex balloon is used for any occasion including wedding's, birthday parties, corporate events, baby showers ect. 
Can be used for helium purpose or air. 
Each balloon measures 11" (Diameter)
Sold individually which means no restrictions to how many you want to buy!